There's this scene in "Second Time Around" (season 10, episode 18) of "Murphy Brown" where Michael McKean sings a version of "Me and Mrs. Jones" (only, "Me and Mrs. Brown") to Murphy. It's an earworm I hate because there is no prayer of finding the full version of that. The closest I can come to is a snippet from the series wrap party reel, which is one of my more prized possessions, and even that is maybe only 15 seconds.
Hi, my name is Seuss, and I am a confessed "Murphy Brown"-a-holic. Need proof?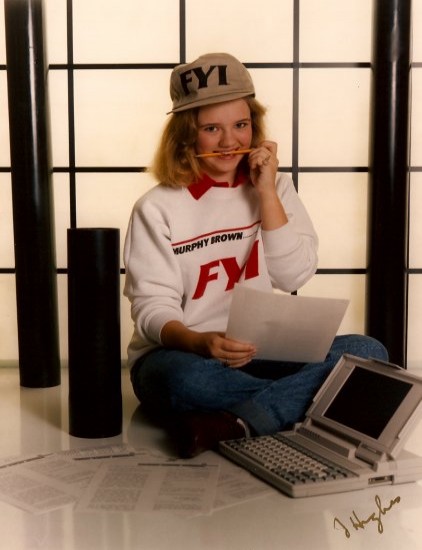 That's from my Sweet 16 photo shoot. The hat and sweatshirt were given to me by the PR person for "Murphy", and the sheets splayed out in front of me next to my vintage (still have it) Apple PowerBook are copies of the newsletter for The Official (it really was) "Murphy Brown" Fan Club, of which I was president. I sucked at it, but whatever. It existed.
Yes, I have always, always been a geek. After all, there is no other way for accounting for my answer when my father asked me, just after my 14th birthday, what I wanted to do that summer. "I want to go see the set, Dad. I want to go to "Murphy Brown"." I mean, really, what 14 year old does that? This girl, it seems.
And, lo and behold, through my father's amazing powers of making things happen, it happened. I gawked as we pulled on to the Warner Bros. lot on August 15, 1991. When I realized the black car parked near the door to the sound stage was Candice Bergen's, I memorized the license plate number because it was the best way to hold on to the memory since we weren't allowed cameras. When we hit that moment of blindness from going from full California sun into the pitch black of the bowels behind the sets, I didn't register who it was I ran smack into until my mother leaned down and said, "You DO realize who that was, don't you?" and I knew for her to say that, I had nearly taken my absolute idol, Candice Bergen, OUT.
It was a closed set, as they were shooting the Season 4 premier, "Uh-Oh, Part 2." The previous cliffhanger of a season finale was when Murphy held up that infamous blue stick to the camera, and all the talk of the summer it seemed was, "Is she really pregnant?" The speculation was wild and rampant: was she or wasn't she, was it Jake's or Jerry's, and, biggest of all, would "Murphy Brown" pull a "Maude" – would she have an abortion? But my dad's connections were apparently bigger than the closed set, and we somehow got there, both for Thursday's rehearsal and Friday's shooting.
I don't think I hardly closed my mouth. There was too much to take in. I'd never been on a set before, and the moment I set foot on one, on that set, of all sets, I was hooked. Bobby Pastorelli was the first one I met. We shook hands, and I was still too stunned that I was shaking hands with Eldin to even think to be awkward. Pat Corley was wandering around. Grant Shaud and Faith Ford, who were both absolute sweethearts, came up and talked to us for a bit as we sat in the front row of the audience, the only people who weren't in on every little detail that swirled around us. Ned Davis, the, at the time, I believe, First Assistant Director, took us under his watch and introduced us around. Charlie Kimbrough came up, an absolute polar opposite to the stiff Jim, and spoke softly and with such charm that I couldn't help but love him. At some point, I know I stole a part of a cinnamon bun off of an abandoned plate. The cinnamon buns were the size of the plates, but I stole a little bit and got a little giddy later when I realized it had been Faith's.
The morning went by in a haze as they rehearsed, the scenes earning smatterings of laughter from the crew, who had surely already heard them dozens of times, and the three of us. At that point in my life, I had adopted this absurd, insane take on my brother's laugh that caused me to sound like a donkey when I really got going. In the middle of one particular scene, where Murphy tells her co-workers that she's pregnant, I full out laughed for the first time. Everything stopped. Candice Bergen, my idol of idols, turned toward where we were sitting, not 20 yards away. "My GOD, what a laugh," she said with a smile. Then everyone laughed, myself included. As lunch approached, someone, probably Ned, invited us to join them in the commissary. My father, in a move I shall never forgive, politely declined, but we were invited to return to the set after the break.
Leaving the set, I was heartbroken. Not just because my father had friggen turned down lunch with the cast and crew in the commissary, but because the one person I wanted to meet more than anything, I hadn't actually MET. Sure, I'd nearly knocked her down. Sure, she'd called out my laugh. But I hadn't been able to tell her how much I adored her, how much I adored her father, having grown up listening to old time radio shows like "Bergen and McCarthy." We ate lunch at some restaurant in the Burbank area – I have NO idea how we found the place, but I know for a fact we were the only straight people there – then returned, having snuck by security on the way out without returning our car pass (which I still have).
When we were on the lot, I decided I would go up and tell the PR person who had handled us early on (who was not, I should mention, "Murphy"'s PR person – she was out that day) that I had to meet Candice. I left Mom and Dad in the car and went up ready to fight for justice. I'm pretty sure what I did was make an ass of myself in the hallway, but I got nowhere. "Don't worry, we'll just go back to the set," my dad said when I returned to the car post-tantrum and teary. We parked not far from the sound stage again, dodging the ubiquitous golf carts, and went back inside, a little better prepared for the damn-bright-day-light-to-pitch-black transition. Dad pulled Ned aside while Mom and reclaimed our seats at the railing of the audience.
A few minutes later, Ned walked up. "We're on our way to pre-shoot a bit on another stage, so she doesn't have much time." Before I could register the meaning behind his words, wearing her infamous horrendous sage green sweatsuit, hair pulled back, not a lick of makeup, there stood Candice Bergen. And I…could not say a word. I don't know how long I stared, jaw dropped, as my mother and father talked to her. "Wow, you came 3,000 miles just to meet ME?" she laughed, then turned to me and looked up into my face. "Susan," she said, obviously trying to snap me out of it. "Susan. Susan. Susan."
I did eventually speak. I have no idea what I told her, but I remember showing her a picture of one of my hamster, who I'd named Murphy after she tried to bite the male's (Miles) foot off. She laughed at the story and took the picture, asked if she could keep it. Duh. When I asked for her autograph, I realized I'd left the call sheet the others had signed in the car. Quickly, someone provided another one, and she autographed it, "To Susan – Thanks for visiting. Next time bring your hamstera!"
There's not much after that burned into my brain from that day. I don't believe we stayed on set much longer, since there was quite a gap in the rehearsals for the shooting of the dream sequence I later learned would open the show. We did go back on Friday for the filming, which was by then the icing on the cake. I was in heaven, and my love for production was sealed.
Shortly after our return home, I would befriend the show's editor, Tucker Wiard. Two years after that, we'd return to L.A., not to visit the set but the edit bay. I got to push a button, watch how the pieces all came together, follow a script as he cut. I was in love.
"Murphy"'s last air date was the day after my 21st birthday, which was fitting, because I was allowed to toast with champagne (read: get drunk enough to deal with the sadness). No, it hadn't been the same for the last couple of seasons, but it was my show, and it was the first show I truly mourned when it left the airwaves.
So now perhaps you can understand why today, when I belatedly learned that "Murphy Brown" is returning to the air on Encore Classic, I jumped around and danced and shrieked like a fool in my living room as I set the DVR. "Murphy Brown" was a classic in the minds of most, but to me? "Murphy Brown" sealed my fate. Because of that show, I fell in love with production, with the passion required by so many to create what we eventually see on our screens. I am beyond giddy that I have a chance to watch it all again. And maybe, just MAYBE, when they get to Season 4, Episode 1, "Uh Oh, Part 2," I'll pull Earl into the room, pause the recording in one specific place and say, "You wanna hear how mama used to laugh? Listen." Because it's there.